Onwards and upwards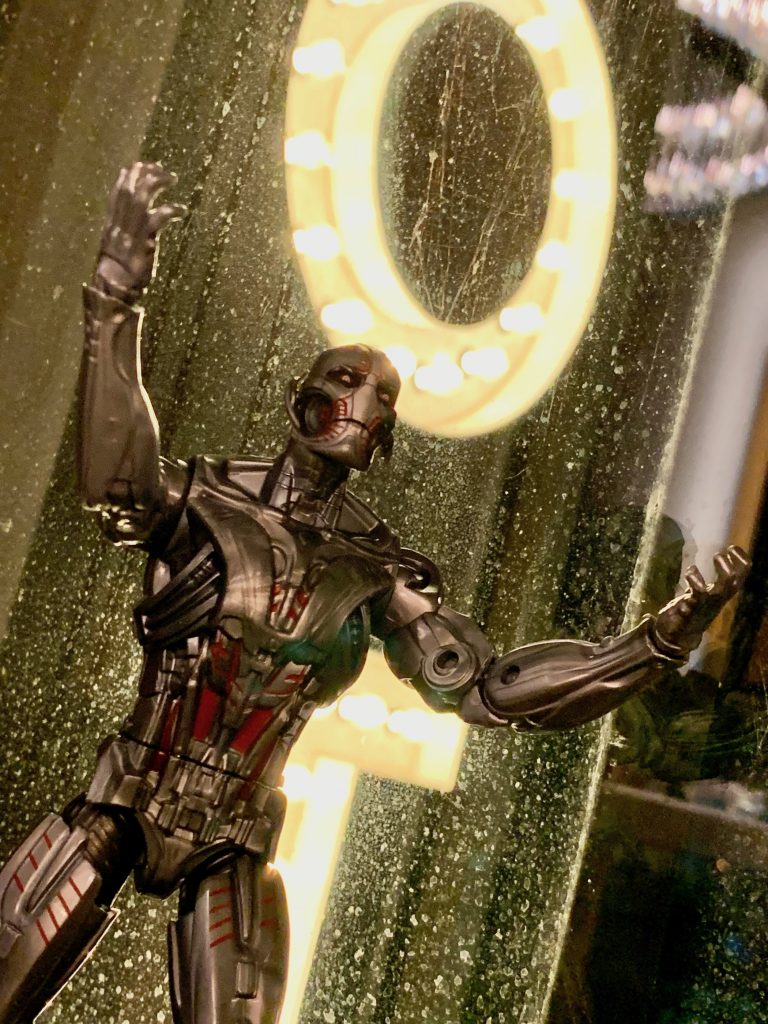 Ezra may have gotten an action figure or two from Santa…
In December I started an end-of-the-year review of whatever the hell I did in 2019 but realized I had no interest in writing it. I kept seeing end-of-the-year and end-of-the-decade lists and reviews and to me they all felt like homework, so why write another one? Let's just move on, I'm too old to look back. Here's where things stand with PitDoc Press projects as we roll into 2020.
By the Time I Get to Dallas Book One: It's printed and shipped to all backers and it's for sale to the general public online. If you haven't gotten one, I humbly suggest you check it out. I feel confident saying it came out pretty damn well. I've gotten lots of great feedback and I'm encouraged that after years in the wilderness, this story has finally found real live readers.
Get your print copy right here!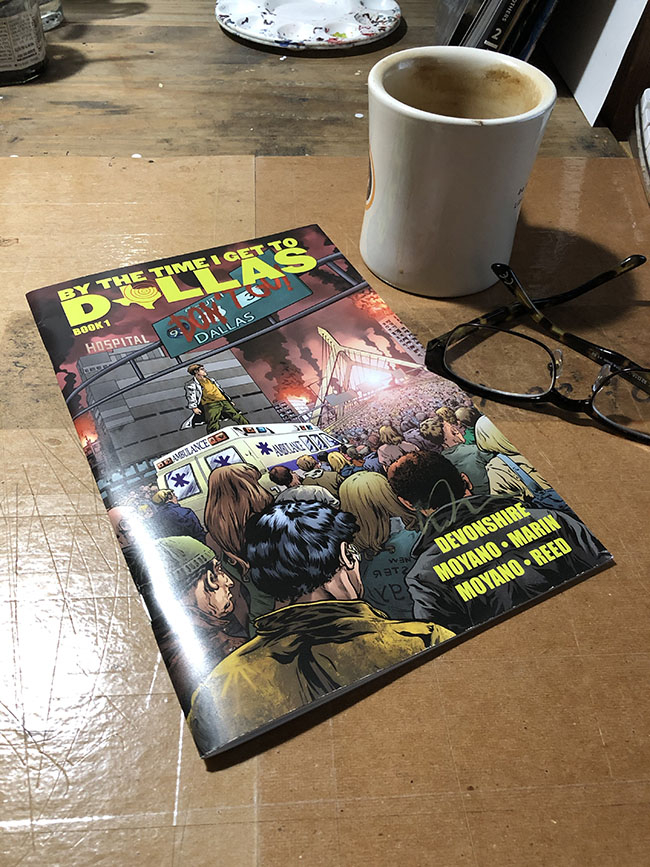 My book on Tim's table. I made it! 
Speaking of feedback:  Book One got an excellent and insightful review from my comic making friend Tim Larsen. I've written about Tim before, he is an artist and writer extraordinaire whose current original series is the Tarantinoesque Mayfield 8. I really admire Tim's eye and his gift for visual story telling. When Tim surprised me with a review of my book I was honored and nervous because Tim's stuff is GOOD and I'm quite new at this comic stuff. I think his review is pretty spot on. Highlights:
It's obvious Colin Devonshire and his artist team have poured themselves into making this story come to life 100%. Seeing how quickly they were able to hone the writing and art into a Marvel/DC caliber of quality…is a good sign.
Thank you Tim! (And don't worry, the Travelers get a bit more interesting, and we'll run into some actual bad guys as things get moving.)
Please, do yourself a favor and pick up Tim's book, it rocks.
Check it out here: http://www.timsnotebook.com/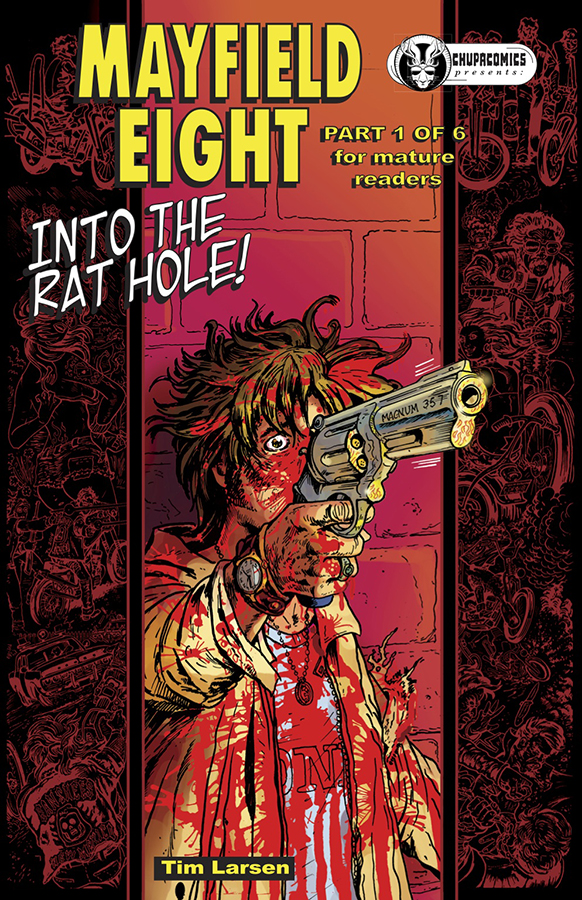 By the Time I Get to Dallas Book 2: I am super excited to report that artist Juanfran Moyano is underway sketching Book 2 as we speak. Book 2 ups is a challenging book to draw, but the work will be worth it as we get rolling with more action, more characters, and more drama. I can't frickin' wait to see it.
When will you get to see it? My tentative plan is to run a Kickstarter for Book 2 once I have about six new pages complete. This will be in addition to nine pages we already have finished (wise Kickstarter backers who got the Book 2 preview are already privy to the new shit.) At that point with about half the book in the can I'll feel good heading to Kickstarter to fund the printing. I know better than to make promises, but my hope is to launch the Kickstarter sometime this spring.
Kickstarter again?! I thought that was just a one time thing! No, gentle reader, it is not. Here's the plan for the foreseeable future: Build audience>crowdfund production (which also builds audience)>make book>repeat. I'll do that until the series is done. Sometimes when you've gotten far enough along in a series a publisher might come sniffing around, knowing the hard work has already been done, but whatever. The goal is to make the thing and keep making it!
Speaking of audience: It's growing. When I launched my Kickstarter in June this mailing list had 150 people. Six months later we are at 363!
The Trinity Project: That's the prequel to By the Time I Get to Dallas I've been working on with Jacinto Jimenez. Volume 1 shipped with the first Kickstarter. I plan to keep releasing pages online and then print them but I need to get my scripts rolling, I've been a bad writer. Bad writer!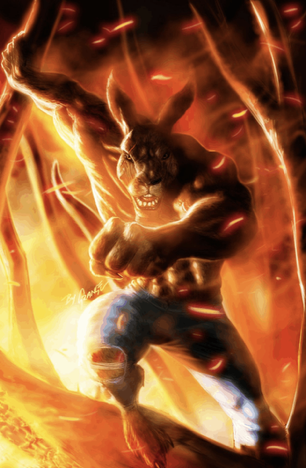 Badass firefighting kangaroo
Australia Burns: But luckily there are good writers, and good artists, specifically in Australia, and they are doing good things indeed. As you no doubt are aware, wildfires are ravaging large swathes of Australia, claiming lives and destroying homes  and wildlife. The rich and vibrant Australian comic making community is banding together to put out a comic anthology, with proceeds to go towards wildfire relief and the families of fallen firefighters.
Sign up here: #AUSTRLIABURNS
Soon they'll ask you to back the comic book, and I can guarantee when they do it will be a keeper.
In the meantime, here is a list of ways you can donate directly to Australian wildlife relief