Why am I awesome?
Because everyone gets TWO books.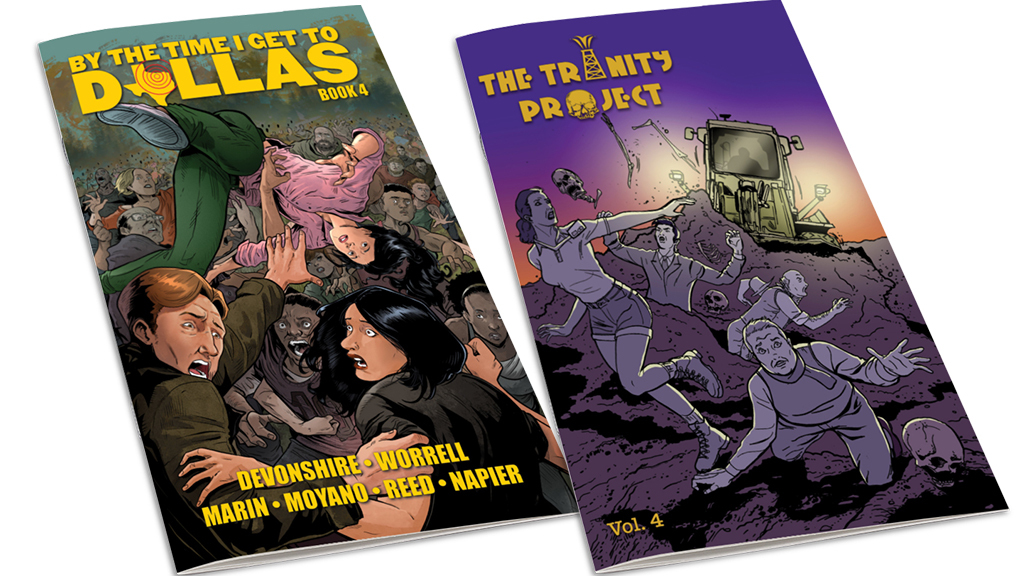 If you've backed a By the Time I Get to Dallas Kickstarter before you know that every issue of Dallas comes with its companion prequel, The Trinity Project. With our current campaign, even the basic digital and physical reward tiers give you roughly 56 pages of new story! That's a challenge to produce every time, and it's why it takes me a year+ to get these installments out.
Why two stories?
Because I don't do things the easy way, that's why.
The not easy way
While Dallas is an apocalyptic medical coming-of-age adventure, Trinity is a paleontology procedural thriller. I made up both of those genres just now.
In 2018, when working on Dallas #1, I was treading water waiting for my art team to get free from other assignments. Our colorist, Jay Moyano, suggested I start a webcomic related to the Dallas story and use it to build up interest in the coming series. I wanted more experience as a writer, so why not make a second comic while waiting to make my first comic?
Meanwhile, I was getting notes from my Dallas editor, Matt Idelson, to delve more into the "why" of the Dallas migration. "Give us more of the mystery." He wanted to know why the migration happened, in like one word. Where's the fun in that? I had a "why", but this led me to brainstorm a much deeper backstory where we learn there is archeological evidence of other vast global migrations back in human prehistory, and just maybe there are mysterious forces connecting those ancient events to the Dallasstory. This was way more than Matt was looking for, but I liked it as a story within the story, or maybe its own series. It felt a bit like the Dharma Initiative plot in Lost, a second story below the surface that is there if you want it. Write another Lost. No problem.
So rather than just wait for Dallas to get drawn, I started up Trinity Project with Spanish artist Jacinto Jimenez. Unlike Dallas, which was plotted out from start to finish, with Trinity I wanted to wing it by producing one scene at a time, 2-6 pages, put them out on Webtoons, and just see where it would take me. It took me a lot of places, it turns out.
Oh, the places you'll go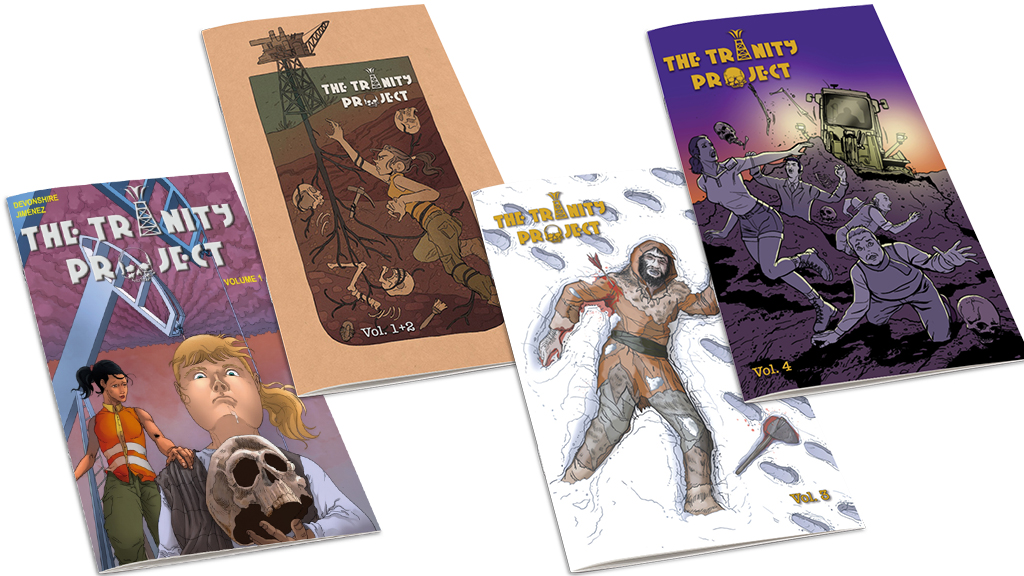 The first place it took me was to a new protagonist. Dallas stars Rudy Deckart, a white male medical student, something I know a lot about. Dallas was my first substantial fiction writing and I felt safe writing what I know. Rudy isn't me, his back story is his own, but it is still pretty easy to put myself in his shoes at any given time. With the Trinity Project I needed a main character who would stretch me as a writer. I came up with Gabriel Estrada, a female paleontologist who as a child made a harrowing migration from Guatemala to the US, and now lives in Texas as a Dreamer with her undocumented father. Dallas was raising themes about migration, and I wanted Trinity Project to take them on from a different perspective. And while writing from the point of view of a hispanic female is challenging, at least by making her a paleontologist I have some common ground with Gabby. My college course work was focused on paleontology (my senior research was on mammal migration, in fact), and though I later switched paths to medicine, with Gabby I get to imagine what life would have been like in academics, and if I had been caught up in a political-corporate conspiracy of global proportions. Nerds always be nerding.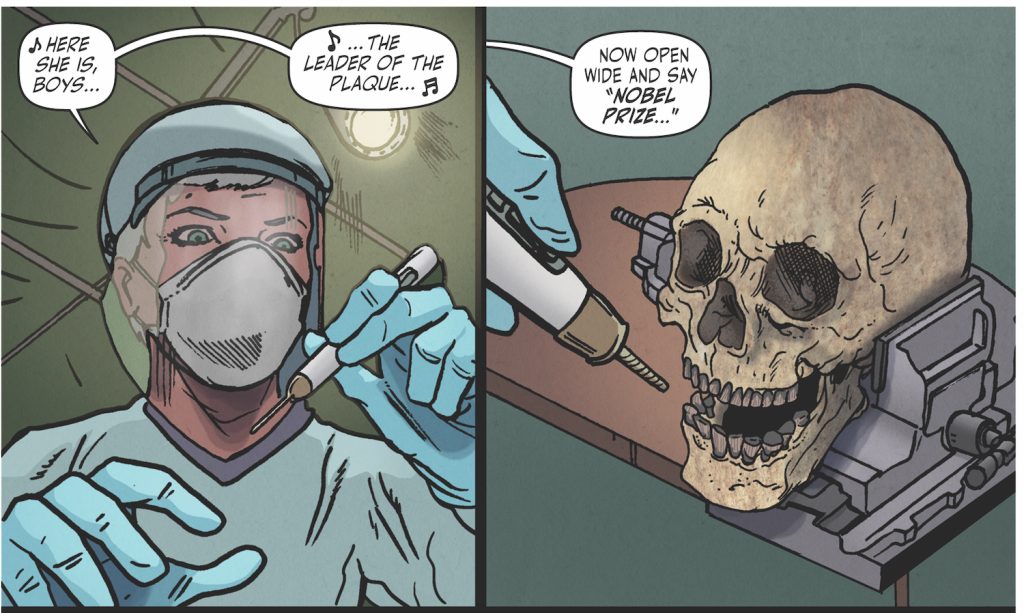 These days I don't put the series out on the web, but I still write in terms of scenes, it helpa me free my mind and think what needs to happen on the next page without worrying too much about the big picture. The art team of Greg Woronchak and Jason Finestone are chomping at the bit for new pages to work on and I'm banging away with my free moments to get them the TP 4 script. It'll happen, I'm sure of it.
How I'm staying sane this week
Birds of prey. I lied, I'm not staying sane really. I've been working a ton of night shifts the last ten days so I'm basically a ghost, moving at the off hours of my wife and kids. When I am awake and not working, Kickstarter, even when I'm shirking its responsibilities, is draining, and I'm trying not to let it suck me into my laptop endlessly. But, one cool recurring them in my waking hours this year has been cool birds of prey.  Last time I was writing Trinity script at the library, this enormous red tailed hawk landed right outside my window and stayed there for an hour. Not unnerving at all. Also, saw a big barred owl in Vermont, those pics didn't come out as good. Always be nerding.
LAST WEEK!