It's Getting Hot in Here
Kickstarter: Launch Date 6.24.19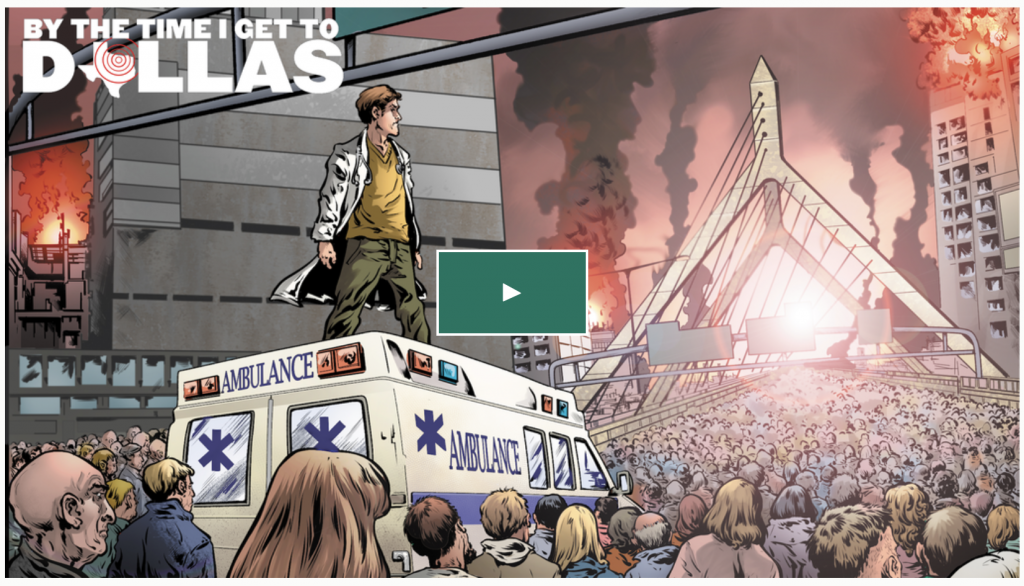 Last time I emailed about the magic of crowdfunding, Kickstarter in particular. Well it had better be Gandalf-fighting-a-Balrog level magical because a Kickstarter campaign is a huge pile of work. I can't really remember what I'm doing with all the tasks before me, but here's there deal:
My Kickstarter campaign, "By the Time I Get to Dallas: an ER doc's apocalypse comic," should launch on Monday June 24!
I'll let you know as soon as the Kickstarter page is live in the next few days.
All line art for Book 1 is done! Color is two thirds done, lettering one third. The book will be complete before you know it.
For the next few weeks I'll be going great guns to get the word out. If anyone knows any "influencers" out there, people with blogs, podcasts, websites on comics and pop culture please drop me a line!
But for today's class you get to watch a movie, specifically a SIZZLE REEL!
A sizzle reel is a collection of comic panels cut together to make a video. I went and did a little extra by making original music for the soundtrack together with my longtime Leckerphonics bandmate Jason Finestone. Jason has been expanding his music producing palette beyond our usual three-chord stomps, so I asked him to make an apocalyptic-trance-horror-hip-hop track, because that should be a thing. And he did it! I added some vocals through a distortion effect, scaring the hell out of myself in the process. (Here's a raw clip, if you dare…)
On the Kickstarter page there will be a longer version of the video in which I talk, and there is a thrilling reenactment of me waking up from a dream. That's all for now. Next stop, Kickstarter Launch!